skrillex
Sonny es adoptado por un agente de seguros y su esposa, ama de casa. Quienes se mudan a Forest Hill una vencida ubicada en San francisco cuando apenas contaba con 2 años de edad, donde curso la escuela primaria. A la edad de 9 y 10 años sonny asistió a una escuela local ubicada en el Desierto de Mojave, pero finalmente se trasladaría al Norte de California, cuando Sonny tenía 12 años de edad regresan a Los Angeles donde se matriculó en una escuela de academia privada especializada en artes. Más tarde a los 14 años debido a que sufría de bullying en su escuela tuvo que recibir clases en su casa.
Para el 2004, se entera que es adoptado y su vida cambia radicalmente, a los 16 años abandona la escuela secundaria y viaja a Georgia para una audición de la banda From First to Last donde fue contratado para ser vocalista. En ese instante empezó con el skate-Punk, escuchaba The Dickies y The Subhumans. Pero a inicios de 2007 decide dejar la banda con dos discos bajo el brazo y empieza su carrera como solista y luego más tarde como productor de dubstep.
En noviembre del 2011, Skrillex fue nominado a cinco categorías de los Premios Grammy, de los cuales ganó tres, Mejor Remix por "Cinema" de Benny Benassi, Mejor Grabación de Dance por "Scary Monsters and Nice Sprites" y Mejor Álbum. Para este año Skrillex mantenía una relación sentimental con la cantante Ellie Goulding, pero debido a problemas de distancia se separaron a finales de octubre de 2012.
En el año 2013, el popular canal de YouTube, Epic Rap Battles of History, lanzó un vídeo llamado Mozart vs. Skrillex, en el cual apareció el verdadero Skrillex para rapear junto a EpicLLOYD.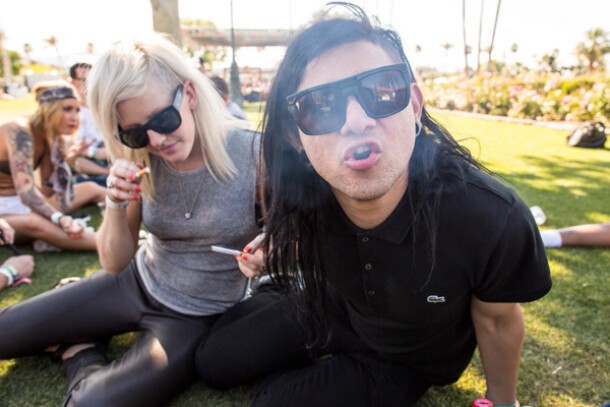 page revision: 4, last edited: 28 Mar 2016 13:28